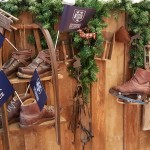 For the 5th year in a row, and now officially as a tradition, the Munich Oxford Society has welcomed its members for the start of the new year with a "zünftig" Bavarian style Weißwurstfrühstück. This year, the gathering involved not only our friends from LSE, but for the first time also members of the Harvard Club.
Meeting in the Almchalet room at Donisl with view right onto Marienplatz, we were greeted with Pretzels, wheat beer and "white sausages" – which of course had to be consumed before noon. The rule dates back to the days when the lack of cooling facilities meant that the sausages would become spoilt quickly and the rule is still obeyed as of today.
After 3 hours of brunching and mingling, the kick-off event ended with the last guests being softly ushered outside and continuing their conversation on the busy Marienplatz – oblivious to the time whilst enjoying the company of their fellow alumni.