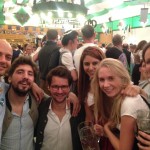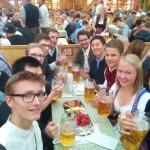 Like every year, the Oxford Alumni Society in Munich gathered in late September for its annual Oktoberfest celebrations. While it is called `Oktoberfest', the Bavarian beer festival actually kicks off in September already, to make use of more favourable Indian Summer conditions. And the weather was welcoming indeed: With a rainy kick-off in the Oktoberfest's first days, as soon as the Oxford Society joined the celebrations, sunny conditions prevailed.
As a special feature this year, we welcomed a couple of freshers from in and around Munich, who were about to begin their undergraduate and postgraduate studies in Oxford. This typically Bavarian send-off event was done together with the Oxford German Society, a cooperation that for sure is there to stay, especially given that the freshers showed absolutely no lack of enthusiasm, dancing and singing skills compared to the more experienced Oktoberfest-goers and Oxford alumni.
The later the evening, the livelier the mood, and very soon there were more people standing than sitting on the beer benches, chanting their favourite songs about swimming giraffes and 99 red balloons. At the end, some even made it to the fun rides, but even while sitting in the rollercoaster, one could still hear the unique Oktoberfest-singing sounds from each of the beer tents.