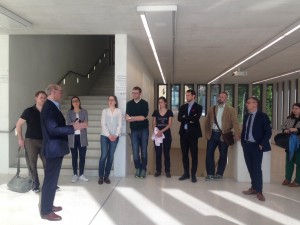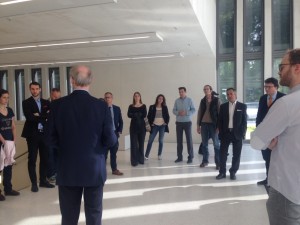 On Wednesday 25th of May, the society had a special goody on offer for history buffs and anyone with an interest in Munich's past. Our members had the rare pleasure to participate in a guided tour through the city's newly established Nazi Documentation Centre led by its founding director, Professor Winfried Nerdinger.
The event was quickly booked out and only a few lucky latecomers were able to snatch tickets from last minute drop-outs. The tour turned out to be extremely interesting, as the group was not only able to see the impressive exhibition itself, but also get some unique insights from Professor Nerdinger on its concept and history.
Leading through the entire documentation centre in a historical tour de force from the end of World War I through the horrors of World War II to the present day, he explained how its focus is meant to be on recounting the story of Munich's role as capital of the Nazi movement in a sober and balanced way in contrast to more politically charged documentations of earlier decades. For him, the goal is to get across the message and let large historical photographs, short video clips, historical newspapers and letters tell their stories – accompanied by texts putting things into perspective and providing overviews and quantifications. This approach also explains the sober, minimalist architecture of the centre, which stands in stark contrast to the neo-classical Nazi buildings in its vicinity such as the former "Führerbau" (now the academy of music and theatre) or the historicist style of the former Nazi Party headquarters, the "Braunes Haus", on the fundaments of which the current museum has been built.
Many of the group felt that they had never been so intensely aware of the dark past of the city. Especially the video projections, showing Nazi processions on locations in Munich known to all from their daily lives were able to convey an unsettling sense of reality and connection to past horrors in a city that nowadays could not be further away from all this.
In the end of the tour, Professor Nerdinger told about his yearlong struggle for the establishment of the centre as an adequate place of remembrance against widespread political reluctance to confront Munich's brown past. Finally, he was available for a short but engaging Q&A session.
Afterwards, most of the group finished off the evening with food, drinks and stimulating conversations in a nearby restaurant.